IJCoL - Italian Journal of Computational Linguistics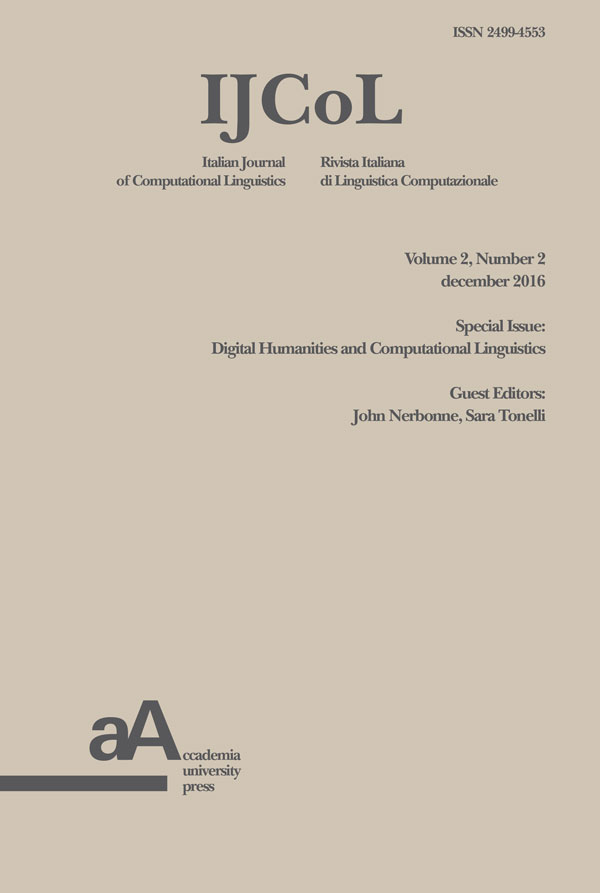 IJCoL - Italian Journal of Computational Linguistics vol. 2, n. 2 december 2016 Digital Humanities and Computational Linguistics
vol. 2, n. 2
a cura di John Nerbonne, Sara Tonelli
anno di pubblicazione 2016
pp. 128
ISBN pdf 9788899982263
Terzo numero dell'Italian Journal of Computational Linguistics (IJCoL), la Rivista Italiana di Linguistica Computazionale edita dall' "Associazione Italiana di Linguistica Computazionale" (AILC - www.ai-lc.it). Questo numero monografico, curato da due Guest Editors che rappresentano punti di riferimento nel panorama nazionale e internazione, affronta un tema centrale nell'ambito della linguistica computazionale contemporanea, riguardante il ruolo delle tecnologie del linguaggio nel settore emergente delle Digital Humanties. In particolare, il volume raccoglie diversi tipi di contributi, che vanno da articoli scientifici, note di progetto e un contributo invitato che affrontano, insieme, linee di ricerca e sviluppo strategiche e promettenti nel panorama della linguistica computazionale italiana e internazionale.
University of Groningen.
---
Fondazione Bruno Kessler, Trento.
Nerbonne - Tonelli, Introduction to the Special Issue on Digital Humanities of the Italian Journal of Computational Linguistics

pdf 65.8 KB


IJCoL02_02
0,00 €

Monachini - Frontini, CLARIN, l'infrastruttura europea delle risorse linguistiche per le scienze umane e sociali e il suo network italiano CLARIN-IT

pdf 214.7 KB


IJCoL02_02
0,00 €

Clemente - Passarotti, On Singles, Couples and Extended Families. Measuring Overlapping between Latin Vallex and Latin WordNet

pdf 249.6 KB


IJCoL02_02
0,00 €

Ingason, PaCQL: A new type of treebank search for the digital humanities

pdf 229.2 KB


IJCoL02_02
0,00 €

Lauscher - Nanni - Ruiz Fabo - et al., Entities as Topic Labels: Combining Entity Linking and Labeled LDA to Improve Topic Interpretability and Evaluability

pdf 198.7 KB


IJCoL02_02
0,00 €

Sprugnoli - Moretti - Tonelli - et al., Fifty years of European history through the Lens of Computational Linguistics: the De Gasperi Project

pdf 210.5 KB


IJCoL02_02
0,00 €

Lenci - Labanca - Marazzini - et al., Voci della Grande Guerra: An Annotated Corpus of Italian Texts on World War I

pdf 89.8 KB


IJCoL02_02
0,00 €

Bellandi - Albanesi - Benotto - et al., Il Sistema Traduco nel Progetto Traduzione del Talmud Babilonese

pdf 490.8 KB


IJCoL02_02
0,00 €